I received a rather official letter the other day, insisting that I needed to renew my American .org domain (songstoserenadethedead.org). I have never heard of this company but it looked so official I was initially fooled.
However, luckily for me I started to post a support query with Freeparking (the actual people who look after my domain) and found that this was bogus and under no circumstances should I had over any money... Phew, thank god I checked! Freeparking had the following up on their site...
Saturday, January 11, 2003- Domain Registry of America
Some of you will have received very official looking renewal notices for .com, .net and .org domains from a company called Domain Registry of America. Along with a credit card form saying that you will loose your domain name if you do not send them your credit card details.
Please note that they are in no way connected with us, or the registrars of your domain name.
They have obtained your details from the public WHOIS record and are not a domain registry. DO NOT send them your credit card details, place the notice where it should to be... in the garbage!
So who are these guys? They certainly had me very nearly fooled. If you know any more about these then feel free to email me at: DRoA(at)mchaggis.org.uk
Just for reference I have scanned the letter in: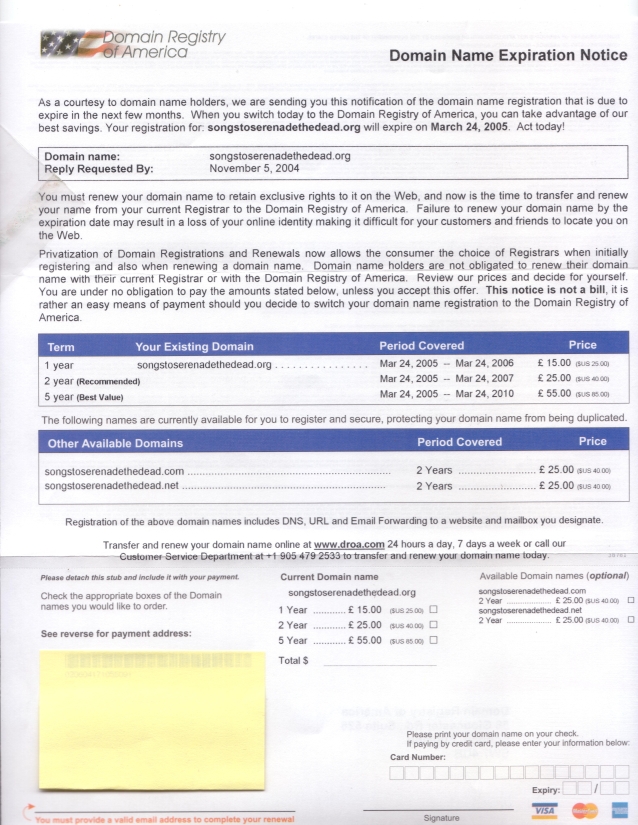 There actually seems to be quite a lot of these scams going on:
February 2004: "A company known only as EU Registry Services based in Cambridge, England are sending official looking domain expiration notices with demands for renewal fees of £60 for 2 years!"

March 2003: "Unfortunately yet another scam regarding renewals of .com, .net and .org domains has emerged. This time a company pretending to be Melbourne IT is emailing domain name registrants, blatantly asking for money for a renewal. The renewal will not be done with Melbourne IT, you will loose your money."
What has got to me about this one is that "Domain Registry of America" was discovered and reported to be bogus in January 2003. It is now October 2004 and I have received a letter.
Why haven't these people been shut down yet?
This is fraud, is it not?
Isn't it acquiring monies through deception at the very least?